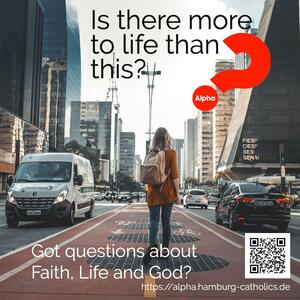 KURSTITEL:
Is there more to life than this?
KURSMODELL: ALPHA-KURS
STARTDATUM: 13.08.2020, 19:30 Uhr
WOCHENTAG: Donnerstag
FOLGETERMINE: every Thursday, 7:30pm - 9:00pm
ENDDATUM: 08.10.2020

ANMELDUNG:
Sie können sich gerne telefonisch oder direkt bei uns in der Kirche, per Mail oder mit diesem Formular anmelden.
ANFAHRT:
It will be an online seminar
Sign up below and we will email you a link to the Zoom meeting.
Kursmodell: ALPHA-KURS
Autor: Nicky Gumbel
Herausgeber: Alpha Deutschland e.V.
Internetseite: www.alphakurs.de
Konfession: Katholische Kirchen
Sprache(n): Englisch
Beschreibung:
Come...
let's talk about it!'
From 13th August 2020 - 8th October 2020
Online, every Thursday, 7:30pm - 9:00pm
Information evening:
13th August 2020, 7:30pm - 9:00pm
WHAT IS ALPHA?
Alpha Online is a series of group conversations that explore life, spirituality and faith through a Christian lens. We create a non-judgmental and open environment where it's easy for anyone who is an atheist, skeptic or just curious about faith to explore questions of life with new friends.
If you want to know more we'd love to invite you to try Session 1 of Alpha Online. It will be a fun evening where you can find out if Alpha is for you. We'll be running Alpha in August!
HOW IT WORKS
WELCOME
INTRODUCTION
LISTEN
SMALL TALKS WITH BIG IDEAS Each Alpha evening features a talk on a particular topic. Designed to inspire more questions than provide answers, these short talks explore the big issues around faith and unpack the basics of Christianity, addressing questions such as Who is Jesus? and How can we have faith? Listen to the talk each week from the comfort of your home. Easy!
DISCUSS
DISCUSS THE QUESTIONS THAT MATTER TO YOU The entire night builds towards this peak experience: after the talk you will be put into a virtual breakout room and your hosts will lead conversations in small groups where you can share your thoughts about faith and life and hear from others in your group. You can feel free to say whatever you like or as little as you like, it's up to you.
DATES & TIMES
13th August 2020 - 8th October 2020
Join us for Alpha online by clicking the sign up button below! The Alpha course runs over 10 weeks, every Thursday, and one Saturday covering different topics and ideas.
Sign up below and we will email you a link to the Zoom meeting.
Session 1: Is there more to Life than this?
Dieser Kurs ist zu 100 Prozent gut:
| | |
| --- | --- |
| KOPF | |
| CHRISTL. PRAXIS | |
| GEMEINSCHAFT | |
| GEFÜHL | |
Unsere 80 Minuten verteilen sich so:
| | |
| --- | --- |
| VORTRAG | |
| GEBET | GESANG | |
| GESPRÄCH | |
| MITEINANDER | |